With just two weeks to go, we're counting down to our next tour!
From 23rd October until 5th November, Mary is heading back to her roots, taking guests into the heart of northern India and guiding them through unique experiences in undiscovered regions just waiting to be explored…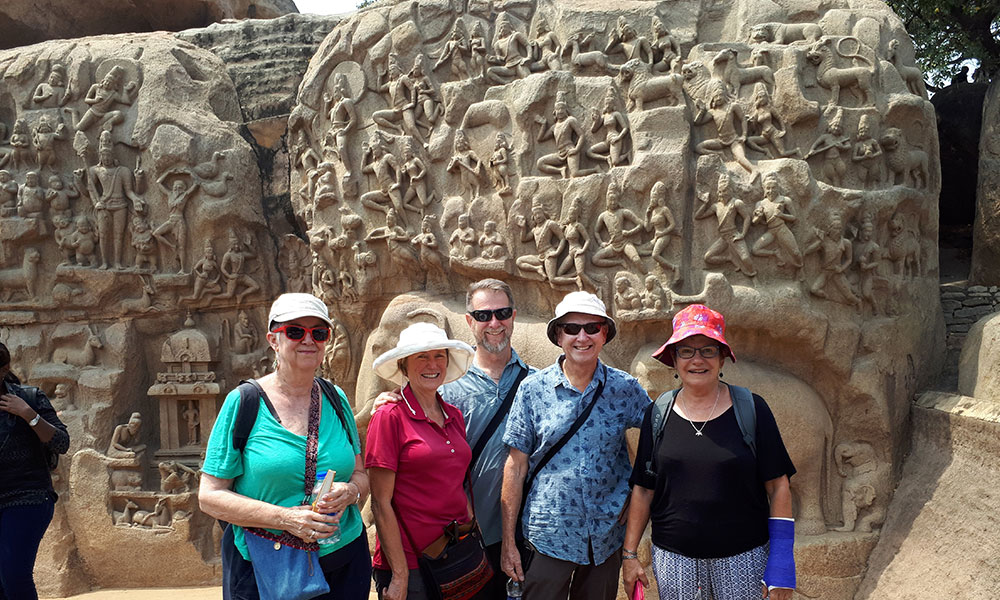 Our journey begins and ends in Delhi, and visits Agra, Jaipur, Pushkar, Jodhpur, Nagaur, Churu, Mandawa and Patan during this two week cultural tour. Highlights include ancient forts, abandoned stepwells and the illustrious Taj Mahal – plus an International Folk Festival.
Here's a brief look at what we'll experience on this fast-approaching tour:
Delhi
A lively metropolis with a population bigger than Australia, Delhi showcases a tantalising blend of ancient and modern, with skyscrapers and glitzy malls providing the backdrop to spice markets and timeworn temples. From historic monuments such as the Red Fort to palaces and places of worship, there's plenty to see and do in Delhi. Guests will also explore the narrow labyrinthine lanes by rickshaw, discovering a 350-year-old spice market and architectural marvels. We'll escape the crowds with visits to the serene Garden of Five Senses, the Sanskriti Museum and the Lodi Gardens. We'll also stay in a peaceful boutique hotel, away from the bustle of the city.
Agra
Situated on the holy Yamuna River, Agra is peppered with remnants of the Mughal Empire, where splendid forts, tombs and mausoleums have stood since it was abandoned in 1585. It's also home to the illustrious Taj Mahal, a UNESCO World Heritage Site, one of the New Seven Wonders of the World and arguably one of the world's greatest testaments to love. We'll visit the Agra Fort as well, stepping beyond the walls and through a maze of buildings that form a city within a city.

Jaipur
In addition to hosting a number of impressive forts and palaces, every building within the walled historic centre of Jaipur is painted a terracotta pink colour. This magnificent 'pink city' was the capital of the Mughal Empire, and is the perfect location to learn about India's Golden Era of art, literature and architecture. Like Delhi, we'll stay in peaceful accommodation with a lovely garden, to relax away from the crowds.
Jaipur extra!
The journey from Agra to Jaipur is a highlight in itself, as we stop to visit the red sandstone buildings in Fatehpur Sikri and the eye-opening abandoned step wells. True feats of architectural mastery, these mysterious stepwells are a real highlight of the trip. We'll stop in Jaipur once again on our way back to Delhi to learn about the ancient craft of Lehariya.
Photo credit: Steven dosRemedios https://www.flickr.com/photos/sdosremedios/33843302786
Jodhpur
From the pink city to the blue city! Many buildings in Jodhpur – the second largest metropolis in Rajasthan, which lies on the eastern fringe of the Great Thar Desert – are painted in the city's iconic shade of blue. We'll enjoy a bird's eye view from the lofty 15th century Mehrangarh Fort (a former palace that's now a museum), find fantastic photo opportunities and knick-knacks back on ground level and visit the Bishnoi village, where there will be a chance to interact with local women and witness carpet weaving, pottery making and block printing.
Jodhpur extra!
Our time in Jodhpur is particularly special this year, as we will be going to the Rajasthan International Folk Festival. Held in and around the majestic Mehrangarh Fort, the festival comprises of spectacular concerts with both local and international artists, and will give you the chance to get swept up in the excitement of an Indian festival. We'll be staying in the stunning Raas Hotel during this time.
Photo credit: Public.Resource.Org https://www.flickr.com/photos/publicresourceorg/27299195732
Nagaur
We will explore the magnificent Nagaur Fort, a regal residence and heritage property which won the UNESCO Asia-Pacific Award for Cultural Heritage Conservation, and many other international awards for restoration work.
Churu and Mandawa
A stay in Churu provides a wonderful opportunity to soak up the sights of India's famous havelis, huge multi-storeyed mansions painted with striking frescoes depicting the experiences, aspirations and interests of affluent and well-travelled individuals. We will also be staying in a haveli for a truly authentic experience. Feast your eyes on more astonishingly detailed havelis in Mandawa, before visiting one of India's most unique temples, filled with unusual shrines to popular deities.
Photo credit: Jean-Pierre Dalbéra https://www.flickr.com/photos/dalbera/8430186228
Photo credit: Dhirad [CC BY-SA 2.5  https://creativecommons.org/licenses/by-sa/2.5  ] from Wikimedia Commons
Patan
Patan is the site of one of the last great battles in Indian history. It's also home to the Patan Mahal, a 13th century ancestral fort which we'll have the chance to explore. After stepping back in time, we'll explore a second palace, the Badal Mahal, which stands at 2,000ft above sea level.
With forts, palaces, museums, local handicrafts, authentic meals, havelis and of course the spectacular stepwells, it's set to be a very special trip indeed. We'll be keeping you updated with our whereabouts and what we're up to throughout the trip, so don't forget to check our blog from 23 October!
Book onto a 2019 tour
If you're interested in booking onto a 2019 or 2020 tour with Mary, please browse through our three fantastic itineraries (under the 'Our Tours' tab) then click here to get in touch.
Choose from Kerala & Northern India, Kerala & Southern India and Kerala & Yoga Retreat. All tours last between 14 and 21 days, travel dates are usually the second Friday of each departure month (January, February and November) and we meet in Delhi or Chennai. All the details can be found on our website!
https://www.purekeralatours.com/wp-content/uploads/2018/10/Pure-Kerala-festival-red.jpg
600
1000
Anne
http://test.purekeralatours.com/wp-content/uploads/2018/05/logo2.png
Anne
2018-10-11 23:22:51
2018-10-11 23:24:13
A glimpse into our upcoming tour this October…